The Numismatourist The Only Worldwide Travel Guide to Museums, Mints, and Other Places of Interest for the Numismatist

Winner, 2015 Delaware Press Association Communications Contest: Nonfiction books for adult readers/Travel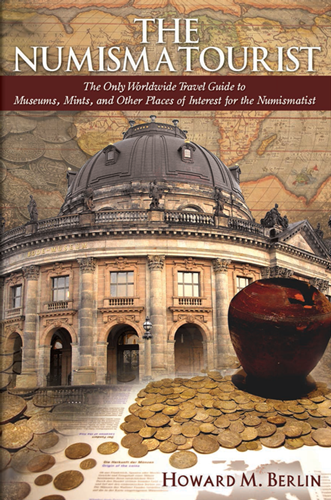 The Numismatourist spans 410 pages with index and covers more than 150 museums, mints, and central banks on five continents. Almost 100 of these institutions are described in depth with pictures. The book is dedicated to the late Dr. Richard G. Doty, the well-known Senior numismatic curator, National Numismatic Collection of the Smithsonian Institution's National Museum of American History. The foreword is written by Karen M. Lee, curator at the Smithsonian Institution. Editorial reviews on the book's back cover are provided by Wayne Homren, editor of The E-Sylum of the Numismatic Bibliomania Society, and Dr. Ursula Kampmann, editor of CoinsWeekly (MünzenWoche) and the MintWorld Compendium.

• List price retail: $29.95 (may be cheaper at various links below)
• ISBN-10: 1933990295
• ISBN-13: 978-1933990293
• Paperback
• Size: 6" x 9" x 1"
• 410 pages
• Shipping weight: 1.9 pounds
---

Orders for this book can be placed by the following:
For domestic and international wholesale orders only (coin companies, coin shops, book stores, hobby shops and other resellers). Setting up a wholesale account is required.
► Click here to order from Transline Supply web site
or
+1 800 575 4007 (toll free)
+1 714 847 4700
+1 714 847 0108 (fax)
or
E-mail Sales/Customer Service: cgrace@translinesupply.com

► Click here to order from Wizard Coin Supply using its contact form



Published Links:


Book Reviews:

Interviews:
Copyright © 2013-2022 Howard M. Berlin. All rights reserved worldwide.