My Recently Published Books
Shalom, Berlin!: A Visitor's Guide to Jewish Berlin, Past and Present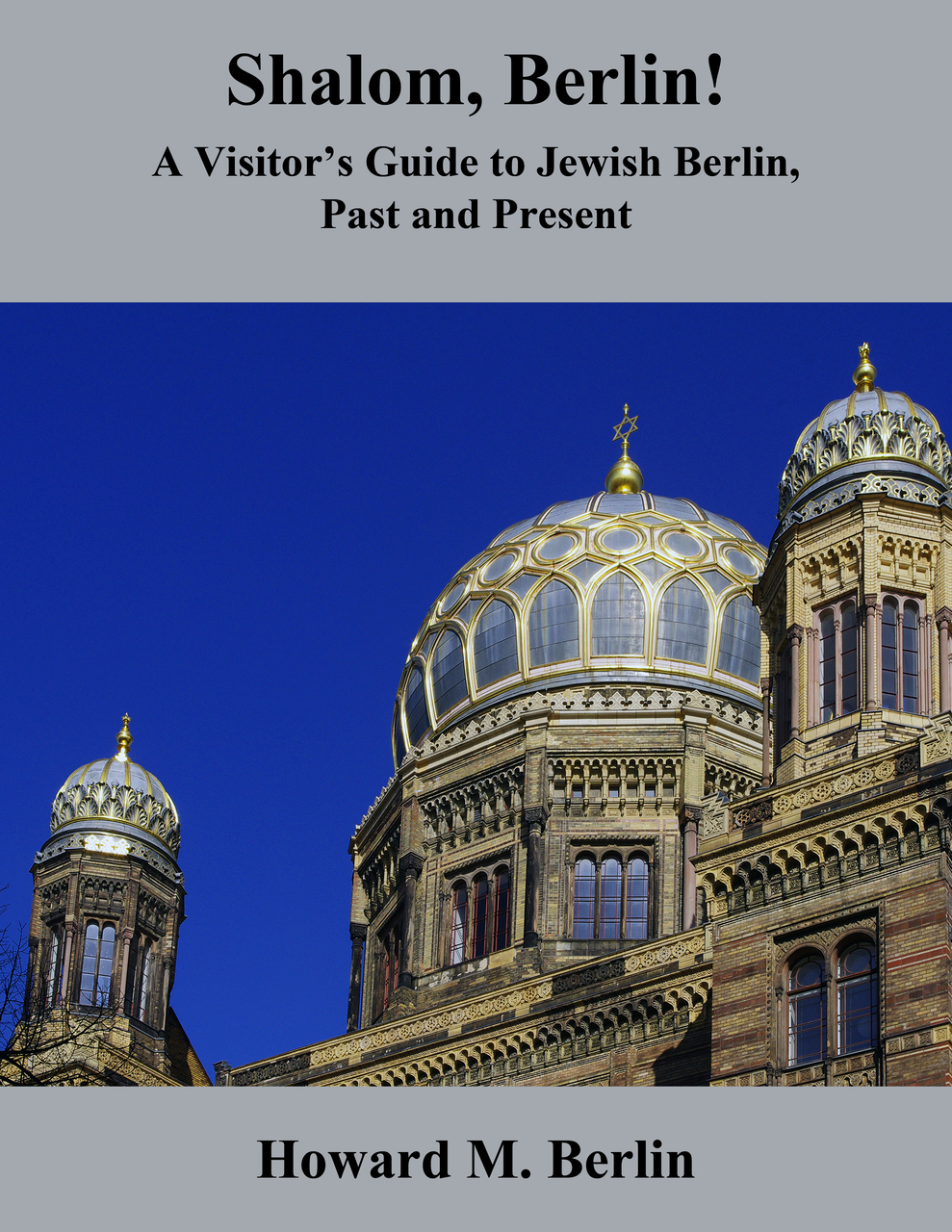 Shalom, Berlin! is a comprehensive travel guide for the Jewish traveler visiting those places that are linked to Berlin's historical Jewish origins and its fall and rise of its Jewish population from the ashes of the Holocaust. In 12 chapters, historical information is provided for 140 sites that cover 10 of 12 Berlin's Bezirke, or municipal districts. These sites cover a wide spectrum of current and destroyed synagogues, memorials, monuments, cemeteries, museums, former orphanages, old age homes, hospitals, deportation sites, and satellite camps run by the Nazis. Three appendices include a historical chronology of Berlin and its Jews; a summary of sites arranged by category; and layout plans for Berlin's five Jewish cemeteries. Historical information with pictures is provided for each venue. A "Visitor's Checklist" includes the street address, telephone number, e-mail contact address, web site, hours of operation, days/holidays closed, and nearby public transportation stops for metro/subways, buses, and trams. Not found in other guidebooks on Jewish Berlin, there is a mini-street map and icons for each site that indicates wheelchair/handicap accessibility, allows cellphone use, permits photography/video recording, charges an admission fee, has multi-language audio-guides, a library, a cafeteria/food court, and a gift/souvenir shop.
Format: 8.5" x 11" (21.59 cm x 27.94 cm) full color, paperback, 391 pages.
Paperback Edition
ISBN: 978-1916787766
Price: $32.50
Listed price does not include shipping charges, if applicable.
Availabilty: Barnes & Noble and Amazon.com
________________________________
The Via Dolorosa: A Pilgrim's Guide to the Stations of the Cross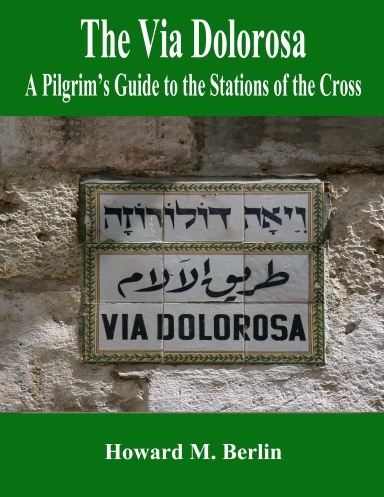 The Stations of the Cross collectively is a 14-stop devotion along the Via Dolorosa that leads pilgrims through the passion, death, and resurrection of Jesus. Roman Catholics are undoubtedly familiar with the Stations of the Cross with the 14 sculptures or paintings that adorn the walls of their churches or outside pathways. Apart from the Gospels of Matthew, Mark, Luke, and John, much of what we know about these places and their customs, are from the written accounts of many pilgrims to the Holy Land, some as early as the 4th century.
The current 14 Stations of the Cross, or Via Crucis, having seen many changes in their location and number, were finalized by the Vatican and Franciscans in the 18th century. Although the incidents commemorated by nine of the stations are recorded in the four Gospels, the other five stations and their supposed locations are simply based on Christian traditions that evolved over time.
In 26 chapters, the reader is taken on a step-by-step historical, religious, and photographic pilgrimage supplemented by 264 pictures and 16 maps. The first chapter focuses on the history of what has taken nearly two thousand years to evolve into the Via Dolorosa and the Stations of the Cross that we know today. The remaining 25 chapters begin with the evening before Good Friday with the Last Supper at the Coenaculum or Cenacle on Mount Zion with Jesus and his 12 disciples celebrating the Passover meal, which became the basis of the ritual of the mass. The
history and its customs are explained and are often punctuated with many biblical references that give the reader further insight into each shrine and allows the pilgrim to fully appreciate the religious experience of walking along the Via Dolorosa.
This book serves as a source of background information for those who either have already made a pilgrimage to Jerusalem and walked from station to station along the Via Dolorosa, either alone, which their church group, or with the Franciscan friars on Fridays, or have made plans to do so in the near future.
Format: 8.5" x 11" (216 x 297 mm), full color, paperback and hardcover
241 pages, 264 pictures, 16 maps, 242 footnotes.
Paperback Edition
ISBN: 978-1-329-90878-9
Price: $35.95
Hardcover Edition
ISBN: 978-1-312-80933-8
Price: $50.95
Listed prices do not include shipping charges, if applicable.
Availabilty: Lulu.com and Amazon.com
________________________________
The Palestine Currency Board: Its History and Finances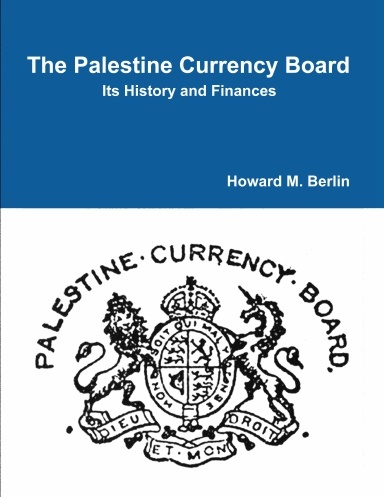 The British established the Mauritius Currency Board as the first currency board in 1849 and there have been more than 70 such currency boards since. The concept of the function of a currency board is not well known, as it is often thought of as a nation's central bank. A currency board is an institution that issues currency notes which are convertible on demand at a fixed rate into an anchor currency backed by underlying securities. In effect, the newly issued currency is essentially a copy or clone of the anchor currency.
When the British defeated the Ottoman Turks and the armistice signed on October 31, 1918, Palestine, as part of the defeated Ottoman Empire, was administratively governed by the British, first as a military occupation, and then as a civilian Mandate granted them as a Trust by the League of Nations. Prior to 1927, Palestine had no currency that was solely its own, but rather the coins and banknotes of many other countries were used. The currencies were mostly those of Turkey, Egypt, France, Great Britain, India, Germany, Russia, Austria, and the United States.
This book traces the need and development for a native Palestine currency, culminating with the formation of the Palestine Currency Board which administered the Palestine Mandate's new monetary system. Unlike Britain's imperial pound-shilling-pence monetary system, the newly created Palestine pound was a decimal system divided into 1,000 mils and used the British pound sterling as its anchor currency. Established June 15, 1926, the Palestine Currency Board remained in effect for 26 years until it was dissolved on March 31, 1952, nearly four years after the State of Israel was established on May 14, 1948.
The Foreword is written by Prof, Steve H. Hanke of The Johns Hopkins University, who is a world-wide authority on monetary systems and the creation of currency boards.
Format: 8.5" x 11" (216 x 297 mm), full color, paperback and hardcover
291 pages, 72 tables, 52 pictures, 453 footnotes.
Paperback Edition
ISBN: 978-1-329-86836-6
Price: $40.95
Hardcover Edition
ISBN: 978-1-312-80877-5
Price: $57.95
Listed prices do not include shipping charges, if applicable.
Availabilty: Lulu.com and Amazon.com
________________________________
Copyright © 2013-2023 Howard M. Berlin. All rights reserved worldwide.